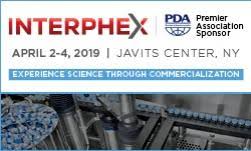 April 2-4, 2019
Javits Center
655 W 34th Street
New York, NY 10001
Visit us at booth #1255!
For 40 years, INTERPHEX has proven to be the place to find all of the State-of-the-Art Solutions you need to Cost Effectively Develop and Manufacture Quality Product. INTERPHEX is the premier pharmaceutical, biotechnology, and device development and manufacturing event where you can "Experience Science through Commercialization".
Based in New York, INTERPHEX brings over 11,000 global industry professionals and 650+ leading suppliers together to "Learn It, Experience It, Procure It" through a combination of no cost technical conference, exhibits, demonstrations, and networking events to leverage quality, efficiency and cost effectiveness in today's ever-changing global market.
If you'll be there be sure to visit us at booth #1255 and learn more about how our excellent service, modern facility and cutting edge technology can make a difference for your projects.
Want to speak to someone sooner? Call us at 603-893-3758 to talk to a representative or email sales@bostonanalytical.com.